Click HERE to read Sedalia's Story

Our Mission Is To:
Get people warm and dry by doing free home repairs, using volunteer labor and buying materials with donated money.


Give Christians the opportunity to put their faith into action by serving their neighbors.


Recruit local volunteer teams to adopt a Backyard Mission home.


Help other towns start Backyard Mission programs.
HOW TO DONATE
Please mail check or cash to:
Backyard Mission
8205 Quincy Ave.
Lubbock, TX 79424

or

Donate through PayPal
HOW TO BE INVOLVED
• Become a volunteer
• Donate financially
• Provide Lunch on workdays
• Pray for us on workdays
• Adopt -a- house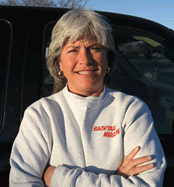 Laurie Foster
Founder/Director